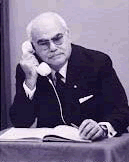 One of the well-known names connected with shipping in Malta is undoubtedly Silvio Mifsud, whose love for ships he inherited from his father Carmelo Mifsud. Chev.Comm Silvio Mifsud was a maritime consultant with his Son Hubert. Chev.Comm Silvio Mifsud. He was born on the 19th of February 1918 in Valletta. He started his education at Mons. D'Andrea school. At the age of eleven years he was admitted to St.Aloysius college as a border where he remained for eight years. He finished schooling in 1938 and immediately went into the family business to follow in his father's footsteps, who had since passed away. Chev.Silvio Mifsud married in 1939. As a result of hard work and determination to succeed in his business, he managed to create strong links with international ship owners and many other prominent people.
Chev. Silvio Mifsud has been honored with several important decorations namely:
The Honorary Consul-General for Liberia in Malta (21/5/1968)
Knight of the Sovereign Military Order of Malta (1970)
Comm. Of the order of Saint Pope Silvestri (12/6/1973)
The Honorary Consul-General for Japan in Malta (26/2/1974) with decoration signed by the sacred treasure order of the late Emperor Hiro-Hito for the services rendered.
Elected Comrade of the Propeller Club of Genoa (1976)
Comm. Of the Order of St.Lazurus of Jerusalem (1979)
Commendatore of the Italian Republic (1989)
M.O.M. 13th Dec. (1994)
M.A.S.M.O.M (2000) Commendatore all'Merito Melitense
Chev.Comm Silvio Mifsud K.M passed away on the 10th July 2002 at the age of 84 years. Until the end Mr. Mifsud held an active role in the management of H. Mifsud Shipping Ltd. His vast knowledge in shipping was very much appreciated.