Shipping Agent Receives Italian Honour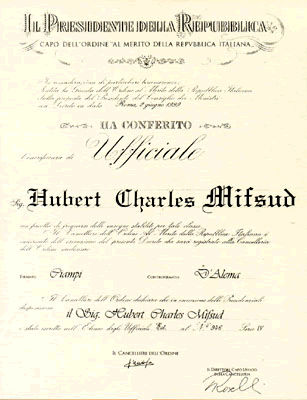 A Shipping agent was yesterday rewarded by the Italian Republic for his work to enhance relations between Malta and Italy.
Hubert Charles Mifsud was respectively invested with the Itallian title Cavaliere Ufficiale by the Italian ambassador, Giancarlo Riccio, at the embassy in Floriana.
The award is a token of gratitude from Italian President Carlo Azenglio Ciampi for their work to improve relations with the Italian community and with the business and commercial sector, the ambassador said during the ceremony.
Since 1967 Mr Mifsud assisted ships carrying the Italian flag and since 1984 has been the representative of the Italian Naval Register.